The US government has recommended the low fat diet (starting mainly back in the 70's) and Americans have done a great job following that recommendation, but now we are sicker and fatter than ever.
It's not your fault. You were misled.
America's fat intake has dropped significantly but something had to replace that calorie, so carbohydrate intake has gone up 41% since the 70's.
Well, obviously, that little experiment failed miserably, so what do we do now?
How about we try the opposite?
There are lots of people doing the high-fat, low-carb lifestyle nowadays, and the truly committed individuals are enjoying amazing results. They are shedding excess body fat, getting healthier, reducing inflammation, lowering their blood pressure, improving their cholesterol profiles, healing cancer, reversing type 2 diabetes, Alzheimer's, MS, Parkinson's and the list of miracles goes on and on.
Seriously, it's all the rage but it's not a fad. It's here to stay because it works, it's delicious, it's healthy, and it's sustainable.
Would you like to try it but don't know where to start? Or maybe you have already tried it but failed?
No worries! I've figured out the easiest way for you to maximize your chances for success. Simply follow the steps below at your own pace.
When you have mastered a particular step perfectly, every day for 14 days straight, and have maintained the steps preceding it, then you are ready to move on to the next step.
If you mess up at any point, start over at day one. It's not bad. You didn't fail. You're just human. No one can do this or any other program perfectly, every day until the end. A robot could do this program in a year. Most humans take 2-3 years though. So cut yourself some slack and do this for life!
It probably took you more than 10 years to get to where you are now, so what's a few short years to fix it once and for all and stay healthy the rest of your life?
You may have tried "quick fix" diets already, but I'm sure you've found those to be temporary at best. There are few things more frustrating than yo-yo weight loss. It feels like you took a whole bunch of time, money and effort and just threw it down the river.
Life isn't a quick fix. Permanent change takes time. This program is designed for the human brain and physiology, with very little willpower required. Let's do it right this time, the simple way, shall we?
Step 1: Drink more water. You need to flush those carb and sugar toxins out of your cells, with lots of water. When carbs are burned in the cell for energy, the exhaust coming from that process is really dirty. That garbage needs to be cleaned out if you want to become healthy again and flushing it with water is a vital part of that process.
Recommended daily dose: 2-3 quarts for women and 3-4 quarts for men covers most people, but some heavy sweaters may need more. If that's a lot more than you drink now, you'll be beating a path to the bathroom, which might seem inconvenient, but just ask yourself, "What's more inconvenient: more bathroom trips, or staying sick and fat?" Plus, that whole bathroom thing gets better as your thirst mechanism learns how to work properly, your bladder gets bigger, and your body learns how to store and use that water. You'll probably always be using the bathroom more often than you do now, but isn't it worth it? Ask any healthy, lean person and they will surely tell you that it is. They might also tell you they don't actually even notice it anymore because they are used to it.
Step 2: Eat more green veggies. First, this will help with the detox process. Second, it will also give you the fiber you need to clean out all the "crap" in your system (figuratively and literal). Third, it will give you the vitamins and minerals you need and the electrolytes to keep you balanced while drinking all that water. Forth, it will naturally crowd out some of those unhealthy foods, making that step easier when you get to it.
Recommended daily dose: Five or more servings per day (a serving is the size of your fist).
Step 3: Replace vegetable fats and man-made fats with select fruit fats and animal fats.
Run away screaming from:
Rice oil
Corn oil
Canola oil
Peanut oil
Soybean oil
Safflower oil
Sunflower oil
Grapeseed oil
Cottonseed oil
Margarine
Shortening
Any other man-made oil or fake butter substitutes
Any other "Vegetable Oil" by itself, or listed as an ingredient
Replace the above oils and fats with the oils and fats below (organic whenever possible):
Coconut Oil (use cold expeller-pressed if you want to avoid the coconut flavor)
Palm oil
Avocado oil
Ghee
Butter
Tallow
Lard
Extra-Virgin Olive oil
Other fats found in meats (free range or wild), eggs (pasture raised), dairy (grass fed), fish (wild), seeds and nuts (especially walnuts and flax, but all nuts and seeds in moderation)
Recommended daily dose: Lots. Seriously. It's good for you. The government was WRONG and their low-fat advice has made billions of people sick, fat and dead.
Step 4: Cut down on processed foods. You don't need to cut out all processed foods, but the foods that come in a bag or box will be drastically reduced in your household and the ones that remain will be much healthier because they will contain acceptable ingredients.
For example, America's favorite corn chip (Dorito's Nacho Cheese) has the following ingredients*:
Beege and Peege's favorite chip on the other hand (Siete Nacho Cheese), has the following ingredients*: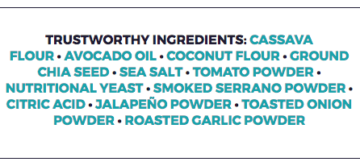 *Both of these ingredient images are taken directly from the manufacturer's website.
Recommended daily dose: 20% of your calories, or less.
So you might be asking now why I don't recommend that you cut ALL processed foods from your life because after all, isn't it best to eat only whole foods? Yes, of course, but we live in a modern world with amazing technology to make really good, healthy food with fantastic flavor combinations, so let's go with that, but let's be smart about it too. That technology can go horribly wrong and make you horribly sick, or it can be used responsibly in healthy ways while optimizing your health. About 85% of the food Beege and Peege eats is whole, unprocessed food, prepared by hand in the kitchen and it's delicious! The remaining 15% (or less) is processed, but the ingredients are carefully selected and it is also delicious!
Step 5: Cut down on starch intake. The most common starches are foods like potatoes, rice, corn, cereals, flours, pasta, bread, etc.
Recommended daily dose: 20 grams or less. Why not just cut out all starch? Because that's not realistic and you can still achieve optimal health with a little bit of starch in your diet. Eating out, special occasions, holidays, etc. often involve eating starches. Once a month never hurts progress. Once a week or more frequently, on the other hand, can be problematic.
Step 6: Cut down on all forms of sugar (even fruit sugar). Did you expect this step to be first? That is by design because that would simply be too hard. Sugar is as addictive as heroin, so starting with that step usually ends in frustration and can easily lead to hopeless abandonment of the whole idea of getting healthy. If you have reached this step though, cutting down on sugar will be much easier because you have been weaning yourself of it all along with the preceding steps since sugar is most commonly found in processed foods.
Recommended daily dose: 20 grams or less (including fruit sugar). Why not just say no to all sugar? See answer in step 5.
Step 7: Become an evangelist and help those you love and care about. When you teach others about these steps and coach them through the process, you stick with it better yourself and ingrain the lifestyle more deeply into your neural circuitry, making it easier to achieve yourself. It also makes it more permanent because your brain is a new brain, with its new pathways, making it effortless to stay on track for the rest of your life.
Plus, when you help someone else achieve their dream of optimal health, you get to experience a level of satisfaction that is beyond words. It's soul food. It's priceless. There's nothing better than connecting with another human being through the process of transformation into their best self. Money and material things can never even hold a candle to the satisfaction and joy you will get from that experience!
Recommended daily dose: As much as possible. Binge on this one!
"Wait!" You say, "We're done here? What about protein?" Don't sweat it. When you get the steps done in the order listed above, protein will take care of itself and you won't have to track it or even think about it.
Yep, you're done. That's how simple it is to get healthy and lean. It might not be easy, but it's simple. It might not be quick, but it's simple.
And because it's simple, it's sustainable.
It may take longer than those "quick fix" diets you've tried in the past that weren't sustainable, but if you stick to it and stick with it, you won't need to try any of those "diets" ever again.
You can start now and be done in 2-3 years, or keep chasing after the "quick fix shortcuts" and never get there, still frustrated 10, 20, 30 years from now, sicker and fatter. Your choice.
P.S. Like I said – it's simple, but that doesn't automatically mean that it's easy, so if you find yourself stuck in a certain step for more than a month, I've got some brain training tricks for you to get you over that hurdle…